This post may contain affiliate links, meaning if you make a purchase after clicking on a link I may earn a small commission at no extra cost to you. Read my privacy policy for more.
This post is all about blazer outfit ideas. Blazers are an effortlessly chic styling option that look good no matter what time of the year it is! So check out this post that contains the best blazer outfits for women!
Even though it's practically blazer season right now, blazers are the one piece of clothing that can stay trendy all year round! That's probably because blazers have the inexplicable ability to make one feel and look like a badass boss lady. (I'm I wrong?)
And since we're talking about blazers being in all year round, they've also become this clothing option that's not so serious anymore. I mean, remember the days blazers were just for work outfits? Now you can style them with pretty much anything and look trendy and cool!
[RELATED POST: 25 Stylish Sweater Outfit Ideas That Are Perfect]
---
25 Chic Blazer Outfits Ideas for Women
Blazer over Bralette Crop Top and Shorts
Okay so a bralette crop top paired with some leather shorts is already such a cute outfit. Adding a blazer to the outfit will make it that much more stylish! Plus to just tie everything together, the brimmed beret is perfect!
Houndstooth Blazer Outfit
Hounds-tooth print blazers are always super stylish. Houndstooth print anything in fact! and if you want to take your outfit to the next level of chicness you could always throw on a turtleneck. And the best thing about this type of outfit is how easily you can style it up or down…
[YOU MIGHT ALSO LIKE: 20 Flirty Date Night Outfit Ideas That'll Turn Heads]
Pop of Yellow Blazer
Wearing a blazer with a bold color is such a chic fashion moment. You're taking this piece that's usually serious and making it fun and flirty. Plus it takes some major confidence to pull off a bold blazer!
Fun and Flirty Blazer Outfit with Shorts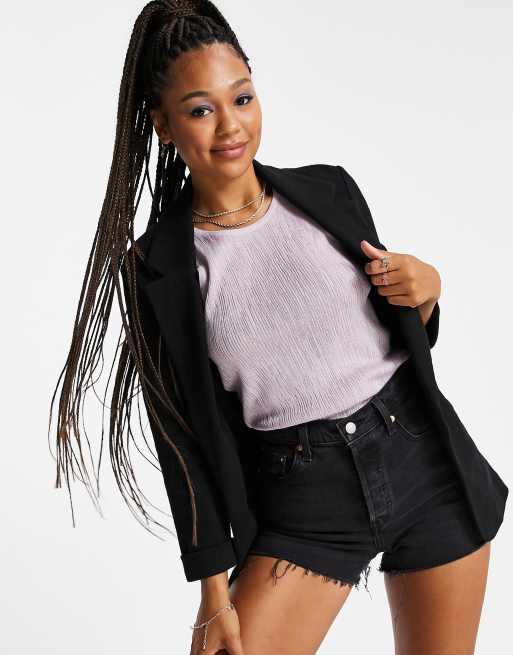 Who said blazers couldn't be fun too! Pop a simple blazer over a cute top and your favorite shorts. You'll have the perfect mix of fun, flirty and stylish. And the perfect shoes for this outfit would be some slippers or some cute kitten heels…
Matching Blazer and Shorts Outfit
If you're still looking for more ways to wear a blazer outfit that are not too serious, then a blazer "suit" with a sexy pop would be it! And as great as a matching pair of blazer and shorts is, a sexy crop top with a blazer, pants combo would be amazing!
Boyfriend Blazer over Hoodie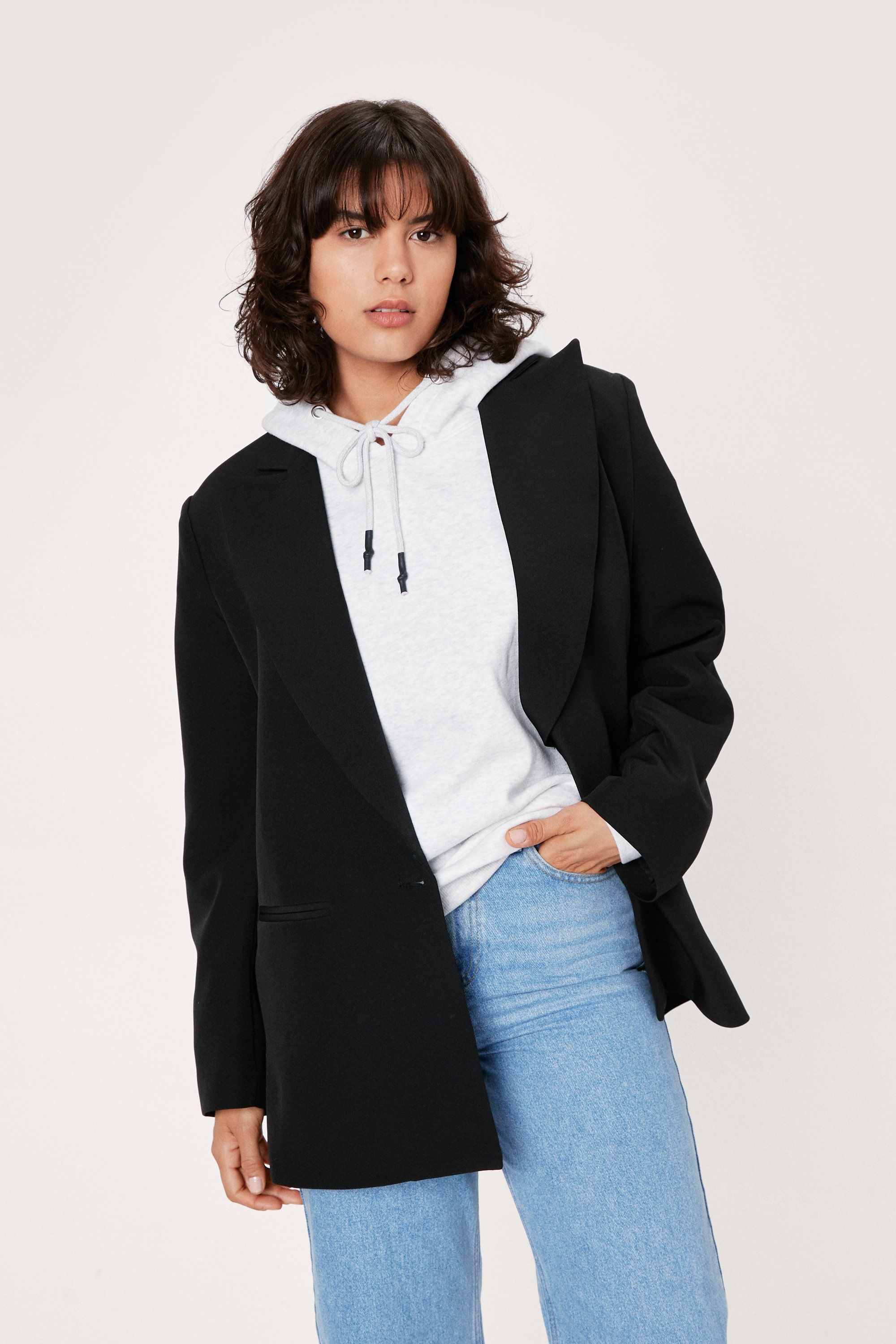 Beautiful things happen when serious meets casual. Layering a blazer over a hoodie is just super stylish and trendy. And of course you'll need the perfect boots to tie in this entire outfit!
Brown Blazer Over all Black Fit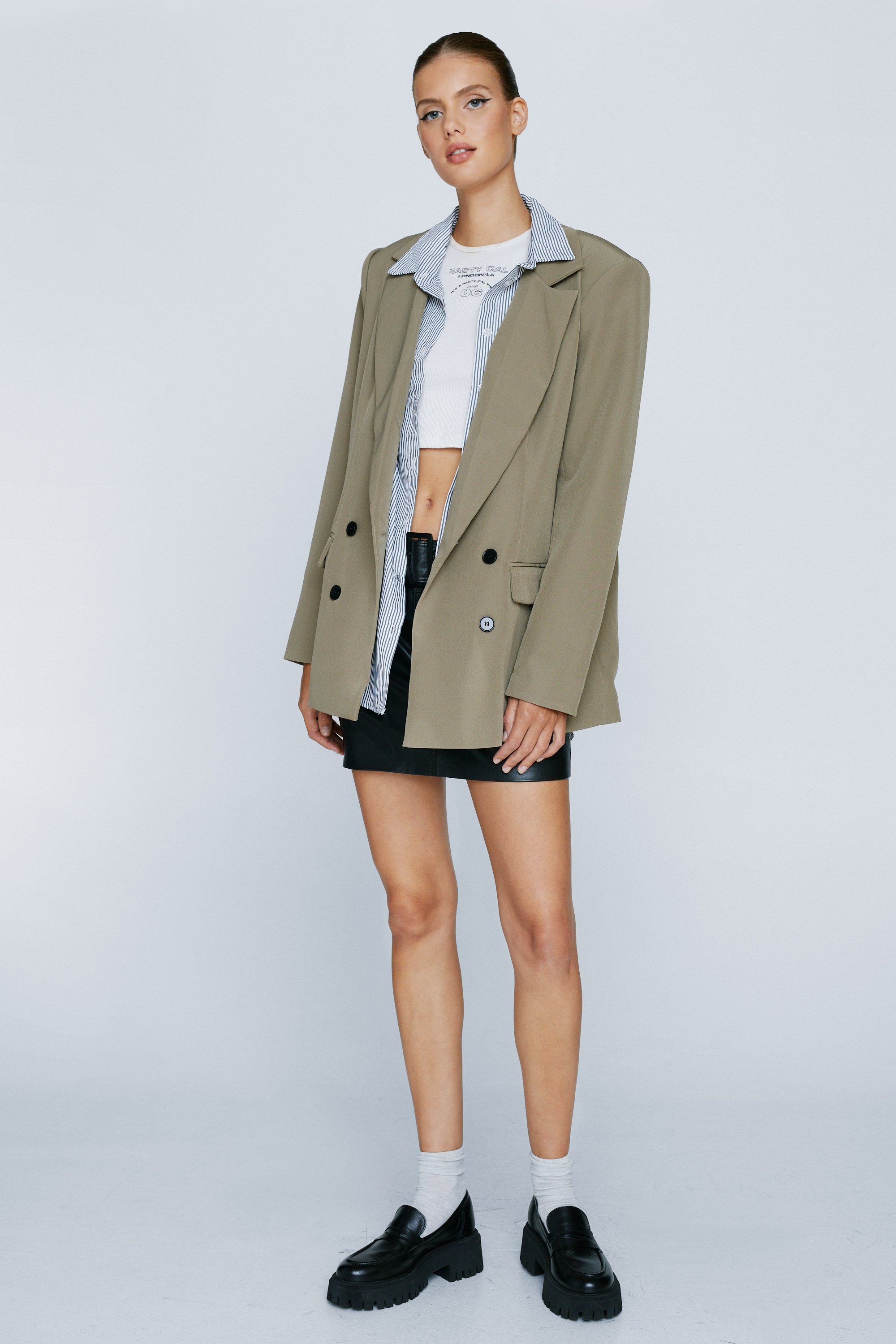 Brown blazers are way cuter than their meant to be, honestly! The beauty about a brown blazer is how versatile it can be. I mean, paired with the right outfit, it can be a super stylish coat for a work outfit or it can be thrown over some biker shorts and boots for a badass fit!
[RELATED POST: 21 Stylish Ways to Slay in Knee High Boots]
Cropped Blazer Paired with Knit Dress
One combo that is unexpectedly stylish is the blazer over a knitted dress. But I guess the key is picking the right blazer. Cropped blazers always look good with dresses. So you can pretty much never go wrong with them.
Shawl Blazer Over Dress
If you need a classy dinner date outfit or just a stylish going out outfit, you can always throw on a blazer on top of a cute spaghetti strap dress.
[RELATED POST: The Ultimate Guide to Preppy Style – 20 Chic Preppy Outfits To Try]
Checked Blazer Jacket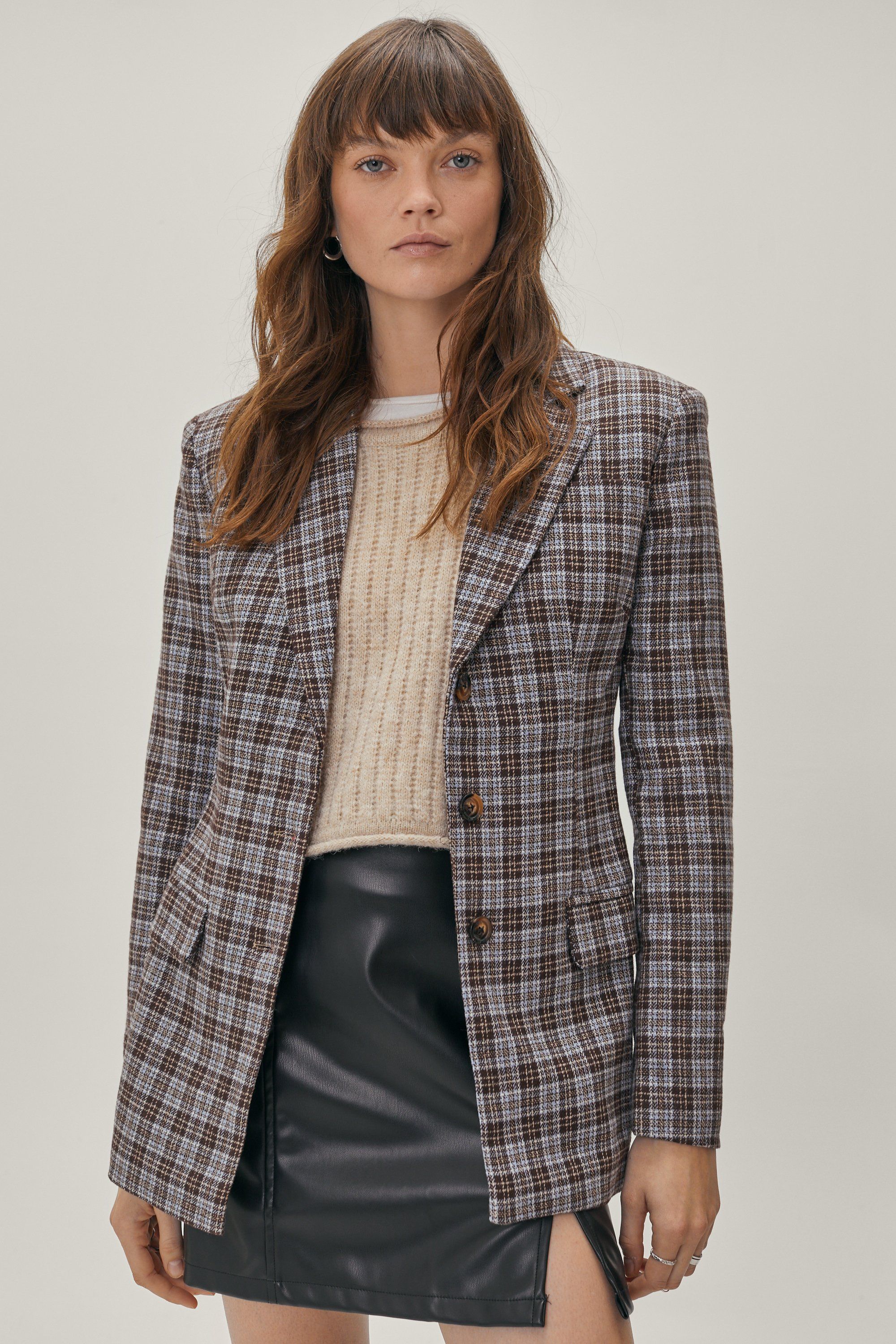 There is something academic chic about checked blazers (is that even an aesthetic? academic chic?). If you throw on a plaid blazer and sweater, then you'll have some pretty serious academia/preppy vibes and you can put on some trousers if that's the look you're going for. But if you add a sexy element instead (like a leather skirt/shorts), then you're taking the outfit to the next level!
Long Blazer Dress
Why stress about what outfit you can put on when you can wear a blazer dress and slay.
Oversized Blazer Outfit
Oversized blazers are so chic! Especially when you wear them as a dress and then pair the outfit with some boots (knee or thigh height of course!). But you can also wear an oversized blazer over a super casual outfit too and the effect is super cute and trendy!
Bold Oversize Sweater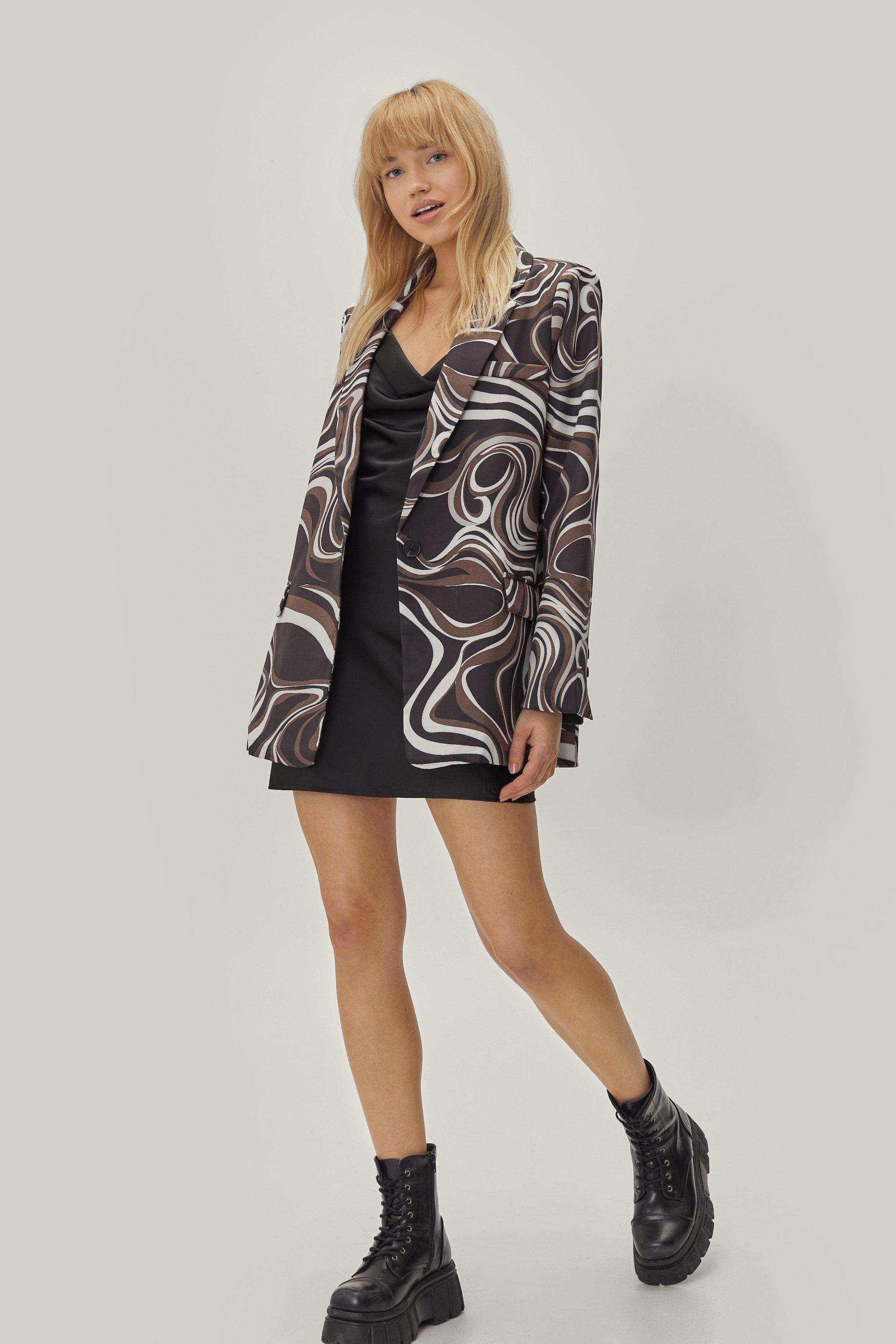 Such an easy way to look cool and interesting is to find yourself a bold printed blazer jacket over a little black dress. With such an outfit you gotta let the blazer do all the talking! And of course chunky boots will always take an outfit to the next level.
Olive Cropped Blazer and Blue Jeans
We all love a cute crop top, so why not double up on the trend with a cute crop top and a cute cropped blazer jacket?? And of course some cute blue jeans to complete the outfit…
Pink Velvet Blazer Outfit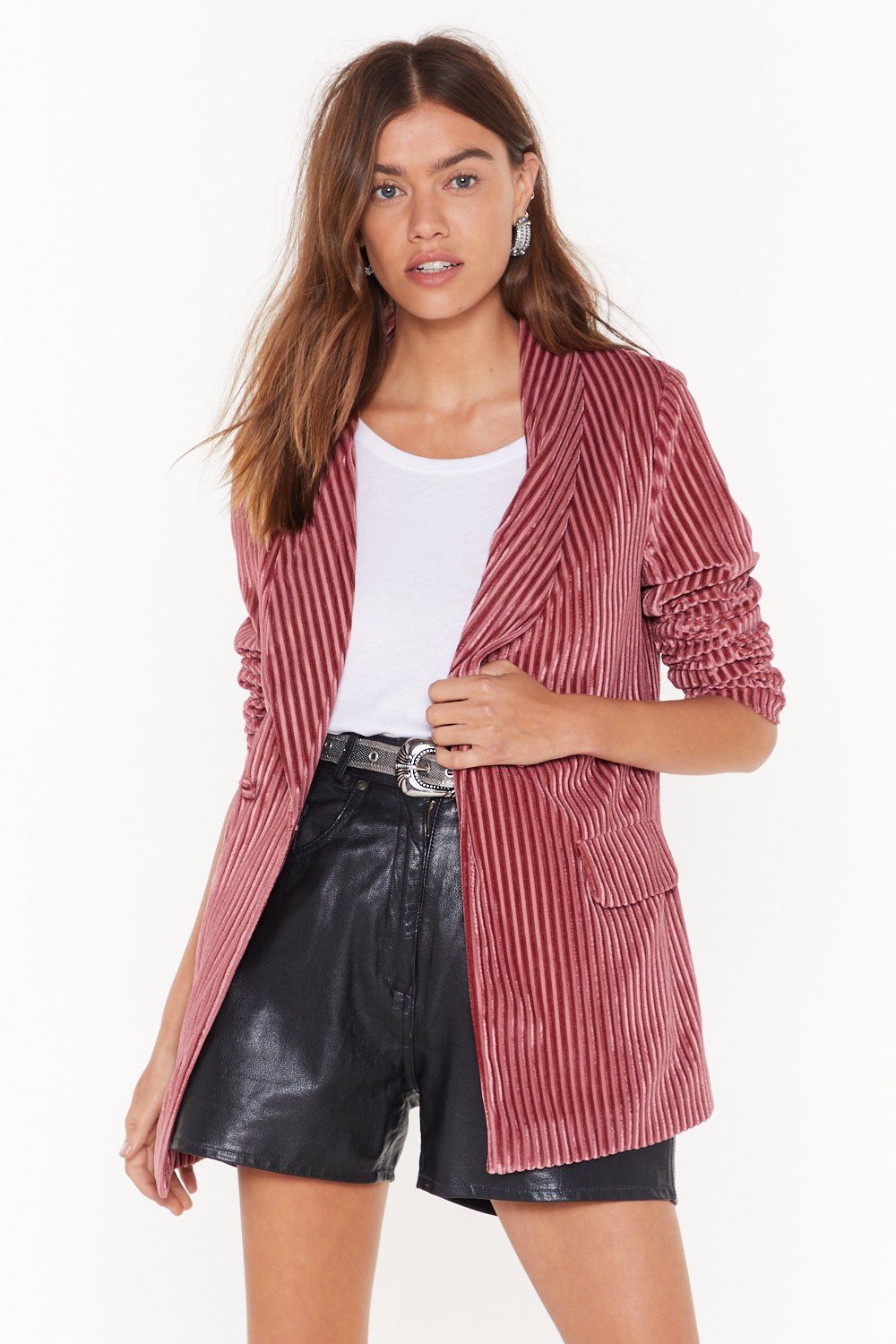 I think everyone needs to own a statement blazer jacket in their closet. Something really unique that makes them feel like a boss! And what screams sexy, confident boss more than a pink, velvet like, oversized jacket?
Cropped Plaid Blazer
Cropped blazers are super trendy right now! The best way to style one cropped blazer is with a pair of jeans and a crop top. Wearing a plaid cropped blazer makes the outfit way more fun and unique.
Boxy Oversize Houndstooth Blazer
Houndstooth print is super chic as it is but on an oversized jacket, it's next level cute! Plus the masculine shaped jackets (you know, box shoulders and sharp lines) actually look super good when paired with feminine energy.
Blazer Over Bralette and Shorts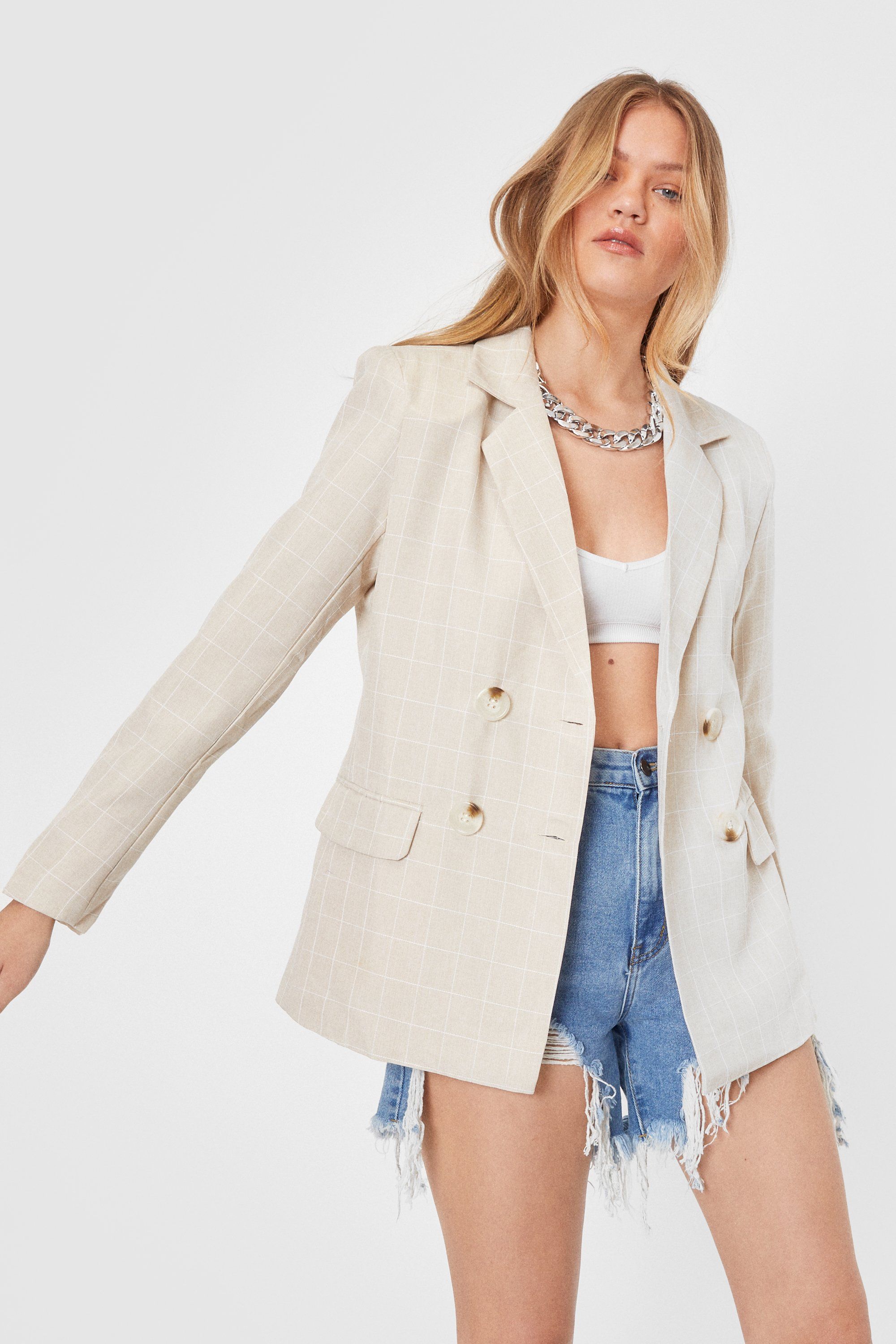 If you're bold enough to wear bralette top, you can pair it with a super cute blazer for a stunning outfit idea. And if you want to take it a step further and feel young and fresh, a pair of denim shorts with the outfit would be perfect!
Cow Print Blazer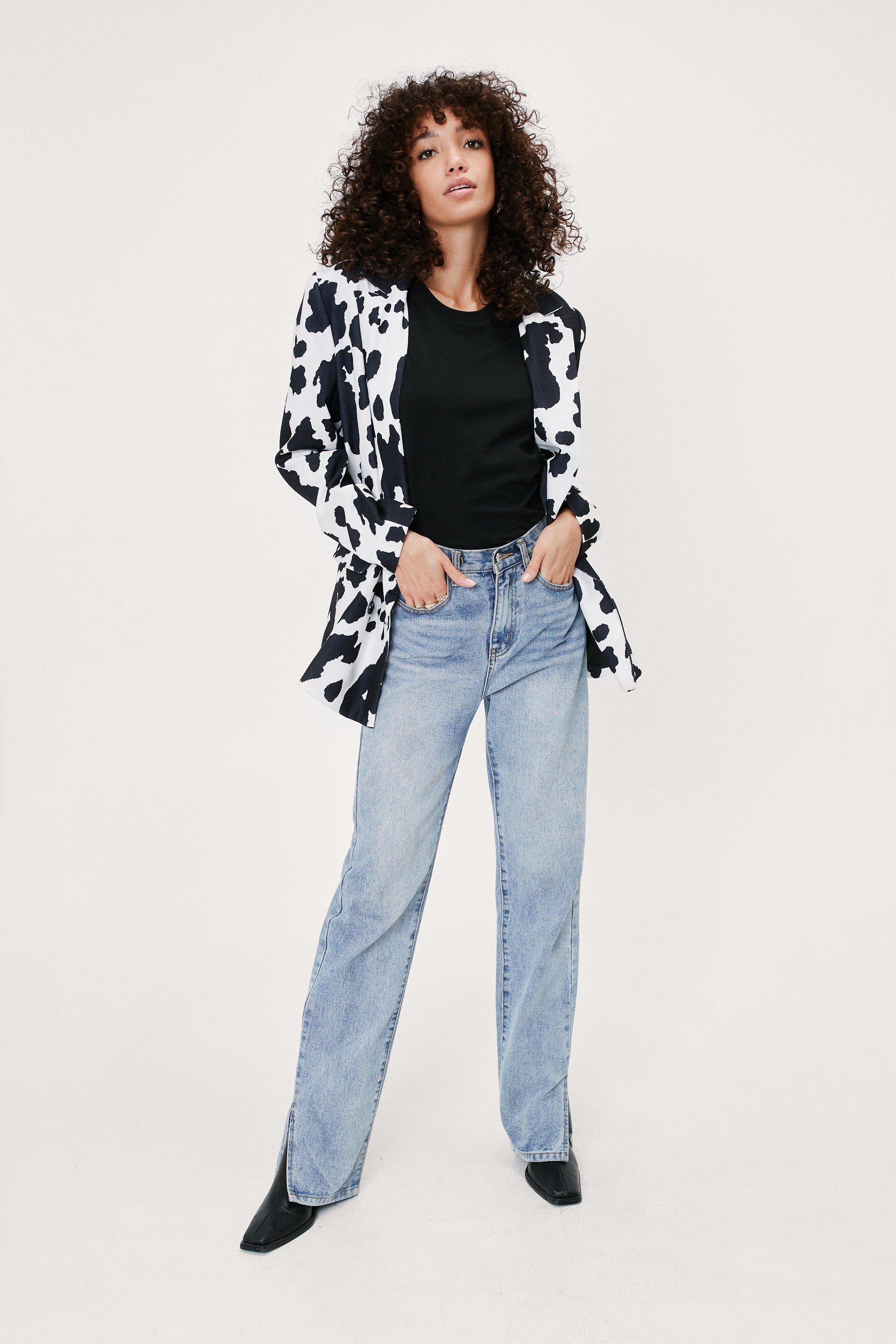 I have no idea when cow print became trendy, but I'll be honest, I'm not mad at it… Cow print is super cute (uwu!) so of course a cow print blazer would be totally drool-worthy too!
Cream Blazer Jacket with Tie-Up Bralette Top
The bralette tops that have strings you can tie up and around are super sexy! And we all know that the combination of bralette and high-waisted shorts is super cute! Together with a creamy blazer on top and you'll have a super stylish outfit idea!
Faux Leather Blazer
Yes faux leather blazers do exist apparently, and one thing is definitely certain; if you put one over an outfit (even a simple white t-shirt and some blue jeans), you will be serving some serious looks.
Casual Layered Blazers Outfit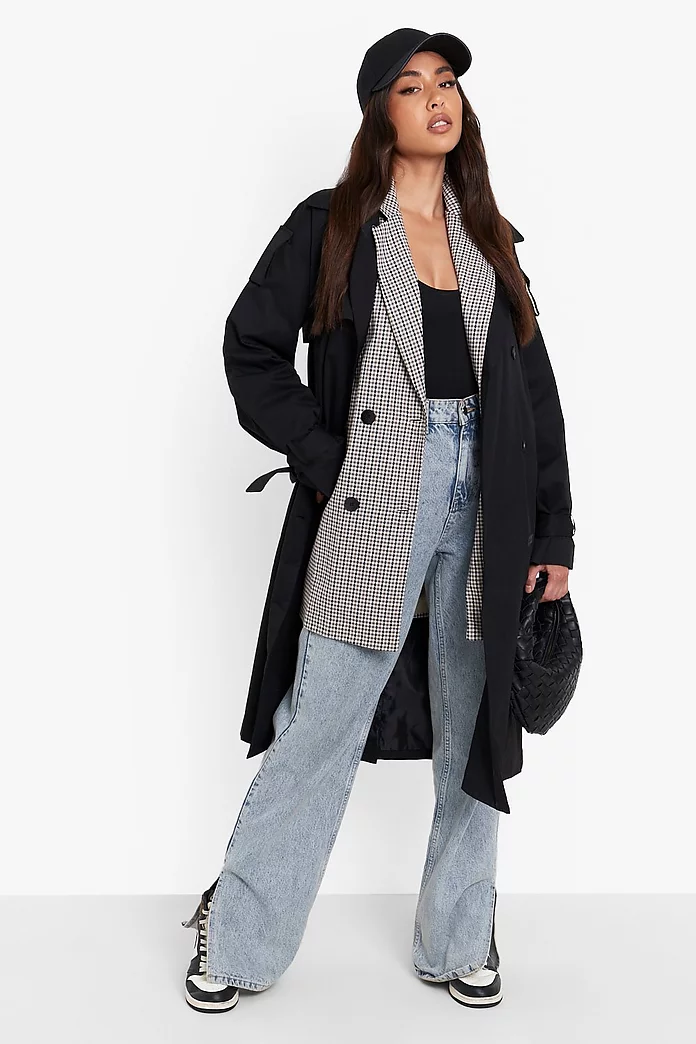 Layering jackets always makes for a super stylish outfit because you can play with so many options! Like the way layering a long jacket over a houndstooth printed blazer is super stylish! And since we all collectively seem to be anti-skinny-jeans now, a pair of boot leg jeans with this outfit is just super cool…