This post may contain affiliate links, meaning if you make a purchase after clicking on a link I may earn a small commission at no extra cost to you. Read my privacy policy for more.
So it's getting colder outside and you're wondering what to wear for your date? This post contains the best winter date outfit ideas that are both cozy and stylish!
Just because it's getting colder outside, doesn't mean the romance has to come to a stop! And let's face it, winter makes us want to brave the cold weather so we can seek out some cute cuddle buddies. What is it about the cold weather that makes romance feel more alive??
Okay let's face it it's been a tough almost two years. We're all definitely ready to face the world again and I think fashion is a great way to express yourself, especially on a situation like a date. And we all know the right outfit can make you feel strong and confident and sexy.
You know why I love winter fashion so much? Because of how insanely versatile it can be. I mean you can basically layer pieces of clothing you haven't touched in months and come out looking super chic!
YOU MIGHT ALSO LIKE: 25 Stylish Sweater Outfit Ideas That Are Perfect for Fall and Winter
So what exactly makes for a stunning winter outfit? Especially for a date night! Well one thing I've noticed is that the best winter outfits usually have a certain aesthetic. You know, grays and whites and even beiges and browns are the trendy winter colors when it come to fashion!
The Best Winter Date Outfit Ideas
1. Knit Sweater + Plaid Skirt and Boots
This sweater top and plaid skirt outfit is really cute and is perfect for a simple casual date night were you want to feel fun and flirty!
2. Belted Sweater Dress
Sweater dresses are one of my favorite pieces of clothing! Just because of how simple but stylish they are. And the beauty about a sweater dress is how easily you can dress it up or down with the right belt or tights. And to take a sweater dress to the next level just add a stunning pair of thigh boots!
3. Puffer Jacket, Jeans + Boots
Obsessed with puffer jackets (is that what they're even called?!), tell me I'm not the only one! Okay this puffer jacket over a bodysuit sweater and jeans is basically the cutest outfit for an everyday sort of casual date…
4. All Black Bodysuit Outfit + Long Overcoat
All black outfits are super sexy, we all know this! But you can stand out this winter by throwing on top a long white or cream coat. Gorgeous!
5. Leather Jacket Over Sweater + Skinny Pants
If you need an outfit that will make you feel confident and sexy, throw on some leather pants (leather will always do it!), a cute turtleneck sweater and a bad a— leather jacket.
6. Black Sweater Dress
Like I said already, sweater dresses are amazing (!). And this stunning bodycon sweater dress outfit is just perfect if you want to look (and feel!) sexy for your date night…
7. Oversize Sweater, Leather Pants + Boots
Sometimes you need a good fail safe date outfit and for the winter months, a nice sweater and your favorite pants are essential. And of course a nice pair of boots can style up the outfit!
8. Layered Coat and Boots
Since it's getting colder outside of course layering is important. And for a date, this particular outfit is really cute and low key preppy which we love. The best part is that this is the kind of outfit you can put on for a casual situation but it can also work and be chic for something a bit more upscale too…
9. Belted Sweater Dress + Boots and Jacket
There is nothing more classic than the contrasty black and white colors for winter. Pairing a white sweater dress and accessorizing with a black belt and black boots adds the perfect contrast. And topping the look with a leather jacket adds the right touch of bad a— (well you know what I mean…).
10. Black Puffer Jacket Over Jeans + Boots Outfit
This black puffer jacket over a black shirt and jeans screams bad a— and fun at the same time! This is definitely an outfit that'll make you feel confident and sexy while being comfy and stylish.
11. Fluffy Fleece Coat + Boots
Talk about the perfect casual date outfit. Leather pants will always be sexy but paired with a fluffy coat and you have a surprisingly cute outfit! And of course the chunky boots just bring the whole outfit together…
YOU MIGHT ALSO LIKE: The Ultimate Guide to Preppy Style
12. Plaid Coat and Boots
I love giant coats like this because they can be outfits in and of themselves! The fact that the coat is plaid means you would be check marking a popular winter fashion trend. Oh and chucky wellies are super in right now too, so basically this entire outfit is trendy and fun and cute.
13. Long Coat Over Jeans and Sneakers Outfit
The perfect elevated casual look! Basically when you throw a long coat over an outfit it just takes it to the next level! Just look at this simple top and jeans outfit with trainers. The fact that you can add a stunning coat over it and transform the outfit is just mind-blowing (in the best way!)
14. Brown Tone Sweater Dress and Crop Jacket
If the weather is not too cold outside, a nice jacket and sweater dress paired with some cute boots make for the perfect casual date outfit. And just because fall is over doesn't mean browns/beiges are out. Those colors are just as pretty in the winter as they are in autumn!
15. Sweater + Jeans Outfit with Heels and Overcoat
A classier outfit option. Even though the pieces in this outfit are what you would regularly see in a casual outfit, you can dress up the look with some heels and a nice sweater and coat!
16. Crop Top and Jeans + Fleece Jacket
If you need a date outfit idea for winter that is fun and flirty and cozy, I can't think of anything better than a crop top outfit with a coat over it.
17. Long Sweater Dress + Boots
This is an outfit that just feels really stylish. The cool long sweater dress. You wouldn't think it wouldn't work but it just does. Honestly this outfit is just perfect.
18. Sweater and Layered Coat
This is an outfit that you can dress up or down so effortlessly. You could swap out the coat, or the boots and get a completely different vibe each time. This outfit is just stunning, clean and exciting!
19. Red Dress and Boots
Red is honestly such a nice color for winter especially if you live in snowy areas, it's such a nice popping color. And don't they say red is the color of love? So you'd already be setting the vibe for the night!
20. Turtleneck Sweater + Wellies Outfit
We love a cute casual outfit for a date. Sometimes you don't need to too much and sometimes a simple turtleneck sweater and some skinny's with boots is the perfect outfit…
21. Sweater Under Houndstooth Print Dress
I think we all love the t-shirt under a dress trend (right?!) and this is the winter version of that trend that is just too cute! And pairing off this outfit with some wellies is unconventional but it works!
22. Chucky Cardigan Outfit
Honestly this is the quintennial perfect date outfit. The chunky cardigan and jeans are just so right. When I see this kind of outfit, all I can think of is fun and flirty vibes.
23. Long Puffer Jacket + Same Color Sweater, Jeans and Boots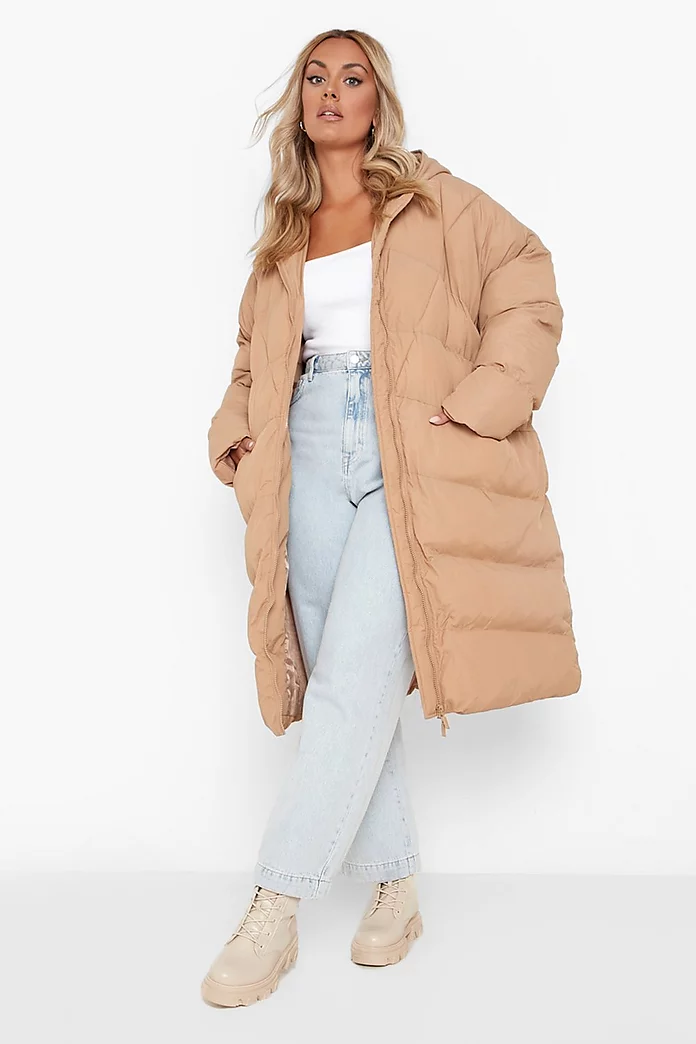 I love how we've all sort of collectively agreed to boycott skinny jeans! Wide leg jeans are back in and their trendier than ever! I love a good wide leg jean with some boots, it's a super cute look. So if you're going on a coffee date or something like that then this outfit is perfect.
24. Long Leather Coat, Cute Jeans + Boots Outfit
Loved The Matrix? (kidding, kidding!). Long leather jacket, totally bad a— but pair that with some killer boots and you have a smoking outfit. I mean honestly you can take over the world in this outfit, so a boy should be no problem!
25. Monotone Overcoat, Sweater and Pants + Boots
You can show up to a date looking normal or you can show up looking like a beige dream. The choice is yours and I think it's an easy one!